Both fans and participants of motorsport are always keen to see who's the outright fastest driver on the grid when given a level playing field of competition. Almost always in different championships and disciplines of motorsport is the grid a fair contest, with higher budgets making for a better performing car and not giving a true reflection of driver talent and skill. The Tegiwa Type R Trophy championship is closely monitored with regular compliance checks throughout the season. This page offers documentation of all the checks once they have been carried out at each round.
ECU Sealing
Of course, you know that all of the cars are built under strict regulations and utilise the same mandatory parts to make it a competitive championship. However, once the build is complete, the car undergoes a power check on the club-controlled dyno, to make sure it is within regulations. The Type R Trophy makes use of a standard ECU, with remapping of any kind is strictly forbidden. It is then that the engine and ECU is sealed to prevent tampering in between rounds, see below for images.
Tyre & Alloy Wheel Regulations
In our bid to ensure that the field is as level as possible, we have a strict policy when it comes to tyres. The championship utilises a control tyre in the form of the 215/45/17 MRF ZTR Tyre. This is to make sure that all racers are on the same date and compound tyre. The tyres can only be bought through the nominated supplier, Tegiwa Imports, to ensure that the tyres meet specification. The use of tyre heating or heat retention devices is prohibited. No alterations are to be made, for example, re-cutting, re-grooving or modifying the tread pattern. The control tyres are branded with "CIVIC" (see ref. image below) on the sidewall, if tyres do not show this branding, they will not be permitted. In regards to wheels, they must either be standard OEM 17″x7J or replaced with an aftermarket wheel no larger than 17″x8J. If using OEM Honda 17″x7J wheels, then the use of up to a 10mm wheel spacer is permitted. Tyres will be checked at every round as part of our strict compliance checks. Please refer to 5.13: TYRES in the regulations handbook for more information.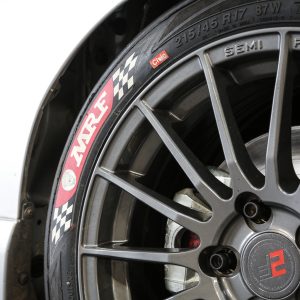 Power to weight
To ensure that there's a level playing field across the grid, we will closely monitor power to weight ratios at each round. The minimum weight for each vehicle is, 1,220kg at the end of the race with driver. The maximum power figure that your car will be able to run is 215bhp at the flywheel. Cars that exceed this power figure (up to a maximum of 222bhp) must carry a weight penalty of 3kg's per (nearest whole) bhp over this figure. This will be applied to the minimum weight, for example, a car that produces 218bhp will need to meet a minimum weight of 1,220kg + 9kg. For a more in-depth look at power to weight regulations, please see 5.7: Engine and 5.14: Vehicle Weight in the regulations handbook.
Ride Height
When upgrading suspension to Yellow Speed Racing Premium Competition Inverted Coilovers, it's apparent that this will have an effect on ride height. Therefore, it is permitted to alter the ride height. However, under no circumstances can any part of the body work, or of the suspended part of the car excluding the exhaust system, be below a horizontal plane passing 70mm above the ground. This is measured with the car being in normal race trim and with the driver aboard. A 70mm gauge may be used by scrutineers before or after races, or practice to the check the ground clearance. The vehicle may be stationary or moving during any testing.
Gear Ratios
A common modification on a fast road Civic is to modify the gear ratios to include a shorter final driver that will rapidly increase acceleration and give a 10-15% increase in torque over the OEM final drive. However, when it comes to our strict regulations of building a Type R Trophy car, the gearbox must remain standard for the model being race. The only permitted transmission modification is that the standard differential may be replaced with a MFactory Helical Limited Slip Differential. For a more in-depth look at transmission regulations, please see 5.9 Transmissions in the regulations handbook.
Rear Anti-Roll Bar
The rear anti-roll bar is a permitted modification on Type R Trophy cars. All cars are checked to make sure that the diameter of the RARB is 24mm and 28mm.

 Bushes
Suspension bushes are permitted to be changed to the SuperPro Type R Trophy Full Bush Kit. Special attention is paid to rear arms, ensuring that they are all rubber or polyurethane, as no spherical type bearings are permitted.
Exhaust
The exhaust manifold on Type R Trophy cars must remain standard, however, the catalytic converter and exhaust system (excluding the manifold) may be replaced with a Tegiwa Race Cat Downpipe and Tegiwa 70mm Cat Back Exhaust. Coverings, coatings or restrictors are not permitted and the catalytic converter must be fully functional, with all gasses passing through the downpipe. Emissions testing may be carried out to ensure compliance.
2021 Championship Scrutineering
The following checks have been carried out throughout the course of the championship, with every car tested complying with regulations.
Rounds 1 & 2

Compliance Check 1 – Weights
Compliance Check 2 – Tyres
Compliance Check 3 – Engine Seals
Rounds 3 & 4

Compliance Check 1 – Exhaust
Compliance Check 2 – ECU Seals
Compliance Check 3 – Engine Seals
Rounds 5 & 6

Compliance Check 1 – Rear Anti-Roll Bar
Compliance Check 2 – Bushes
Compliance Check 3 – Wheel Size
 Rounds 7 & 8

Compliance Check 1 – Decals
Compliance Check 2 – Gear Ratios
Compliance Check 3 – Ride Height
Compliance Check 4 – Rev Limiter Redline Checks
Results from the dyno at Silverstone showing 4 tested cars making very similar power.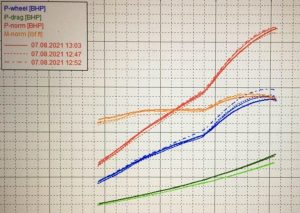 We pride ourselves on the Type R Trophy championship being one of the most competitive club series in the UK, therefore we endeavour to update this page as often as possible to allow for a transparent and competitive championship for many years to come!